For Ethernet users
If you have a negative balance, the Internet speed will drop to 1 Mbit/s, regardless of your tariff. This speed will allow you to complete all the necessary things, answer urgent messages, and also access online payment services.
For the first 15 days, in case of a negative balance, funds will be debited from your account in accordance with the tariff plan that you have.
If 15 days after you do not replenish the balance or do not use the Promised payment service, then your account will be disabled.
You can enter your Personal Account and use payment services even if your account is disabled.
If you want to limit withdrawals in case of a negative balance, you must use this function in your personal account.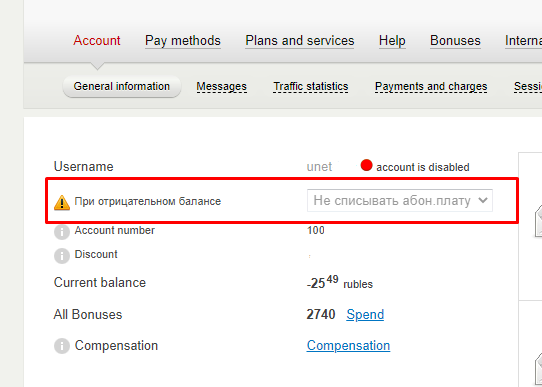 The choice is available with a positive balance of at least 10 rubles.
1. Don't deduct the subscription fee — this means that access to the Internet is blocked when, during the daily subscription fee debiting, there comes a moment after which the user's balance becomes negative. In the future, from the next day, the subscription fee (for the use of Internet access, including TV services) will not be charged. Access to the Internet and other services is restored with an account balance of 7 rubles or more.
2. Don't block access - Internet access continues at a speed of 1 Mbt/s. The subscription fee is charged in the usual amount within 15 days, after which access is blocked.
Changing this setting is possible only if the balance is at least 10 rubles and there is no rental equipment in use.
ATTENTION! If you have equipment for rent or free use, then the subscription fee is constantly charged. The option "Do not charge a monthly fee" is not available for you.
For LTE users
As soon as your account runs out of funds, the Internet will be turned off. You will need to use the Promised Payment service in your Personal Account or replenish your balance using one of the convenient methods.
Write-offs with a negative balance continue only for the rent of a modem (router).
You can enter your Personal Account and use payment services even if your account is disabled.
You will find detailed information on termination and examples of applications in our article on how to terminate a contract.