Sometimes, trying to open a website, user can
encounter the error message "Technical information: dnserror". The site itself refuses to load.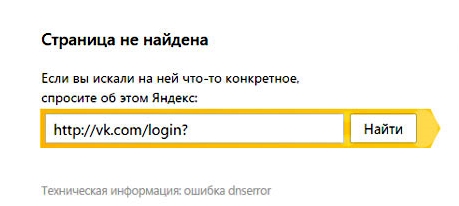 The cause of a dnserror or similar "Connectionfailure" error can be either a site failure or problems in the user's computer settings.
Specific causes of a dnserror error may include:
Website maintenance or failures in its functioning;
Unstable Internet channel;
Blocking of a specific site by an antivirus or firewall;
Blocking of a specific site by the provider;
the DNS server has a corrupted database;
The DNS cache on your computer is corrupted.
Methods for correcting the situation
Try to restart the desired web page or visit it later. Perhaps there were temporary problems with access to the Internet or some work is underway on the site itself.
If the computer has been in working condition for a long time, you need to reboot your device: disconnect it by removing its plug from a socket for 5 minutes and then plug it back in.
Run a good antivirus utility and check the system for any infections.
Go to the firewall and temporarily disable it, or try to add the desired web page to the exceptions as a network resource that is trustworthy.
If these methods did not give a positive result, let's move on to treatment related directly to the DNS:
1.Clearing the DNS cache.
Press "WIN" and "R" at the same time. In the window that opens, write the command "ipconfig / flushdns". Confirm the operation by pressing the Enter button. Let's check the result.

2. Setting the correct DNS address.
You need to go to the following path: Start / Network and Sharing Center / change adapter settings.

Then select an active connection with access to the Internet and right-click on the connection. Go to adapter properties. In the new window, select "IP version 4 (TCP/IPv4)", and click "Properties".
Then it all depends on the settings used.
If your device gets DNS automatically, then you need to register our DNS: 10.74.0.253 and 10.74.0.232 (see below).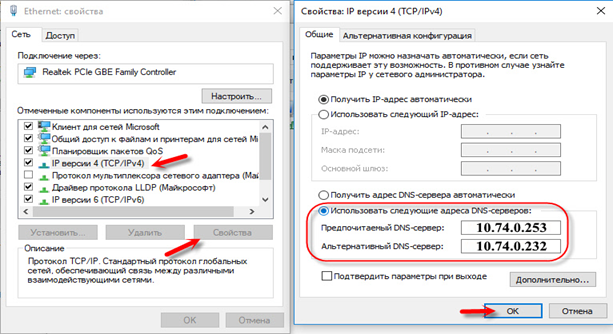 This is usually enough to make the resource available to the user again. Except when the reason lies on the other side of the connection: that is, on the part of the site owner, hosting, provider, and so on.
In extreme cases, you can change your DNS settings to public ones provided by Google. Google DNS: 8.8.8.8 and 8.8.4.4
If you have a problem trying to get DNS on all devices that are connected through one router, then these addresses can be registered in the router settings, then they will be applied to all devices. As a rule, this can be done in the settings of your router, in the "Internet" or "WAN" section. Where the parameters for connecting to the provider are set.